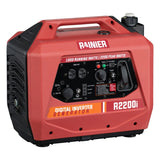 R2200i Digital Inverter Generator
Digital Inverter Generator
1800 Rated Watts | 2200 Peak Watts

Stay connected with the ultra portable, super quiet Rainier R2200i Gas Powered Digital Inverter Generator.

The perfect outdoor companion for providing a dependable power source when you're camping, tailgating, or even relying on it as an emergency back up power supply at home. Wherever your destination is, it's got versatility to charge your sensitive electronics or household appliances.

Designed for maximum fuel efficiency and convenience, the R2200i will keep you prepared throughout all of life's adventures.