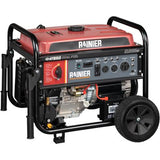 R12000DF Dual Fuel Portable Generator
Dual Fuel Portable Generator
Gasoline: 9500 Rated Watts | 12000 Peak Watts
Propane: 8550 Rated Watts | 10800 Peak Watts

Dependability is an essential when you're facing the unknown. Rest assured with the Rainier R12000DF, a dual fuel electric start portable generator to provide your home or work area a source of reliable energy.

With a heavy duty features, you can count on this robust, yet versatile workhorse to power your air conditioner, sump pump, kitchen appliances, tools, and other small electronics at once.

Keep your life up and running with the R12000DF, the high performance choice to count on.