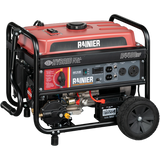 R4400DF Dual Fuel Portable Generator
Dual Fuel Portable Generator
Gasoline: 3600 Rated Watts | 4400 Peak Watts
Propane: 3300 Rated Watts | 4000 Peak Watts

Life is an adventure. Be prepared with the convenient dual fuel R4400DF Electric Start Portable Generator created by Rainier.

Why not be ready with a reliable power source when you're needing it the most? From emergency backup use to camping and tailgating, this is the perfect choice as your go-to power supply for open gatherings, outdoor activities, and home use alike.

For all that life brings you, the R4400DF will keep you connected whether you're staying in or venturing out.